Web Translation
Warning
By the end of the year, the access to our Web Translation tool will be deprecated. From now on, we strongly recommend using our Browser Extensions to continue translating web pages - they will soon be the only way to perform it and offer more in-context features. Learn more (how to install SYSTRAN Browser extensions)
The Web Translation tool allows entire web pages to be translated while retaining the formatting, layout and functionality of those pages. In addition, the tool features fluid navigation, translating any web page accessed via links in the original page.
Using the Web Translation Tool
To start translating a web page, click Web Translation in the left-hand Translation Tools menu.

Enter or paste the URL of the page to translate into the provided field

Use the provided drop-down menus to select the Source language and Target language for the translation task. By default, the Source language will be detected automatically

If available, use the provided drop-down to set a Profile (a set collection of Translation Options and Resources)

Click Translate: the translated web page will open in a new tab or window, replicating the same layout and style of the original web page
In the translated window, you will see a SYSTRAN Translate header.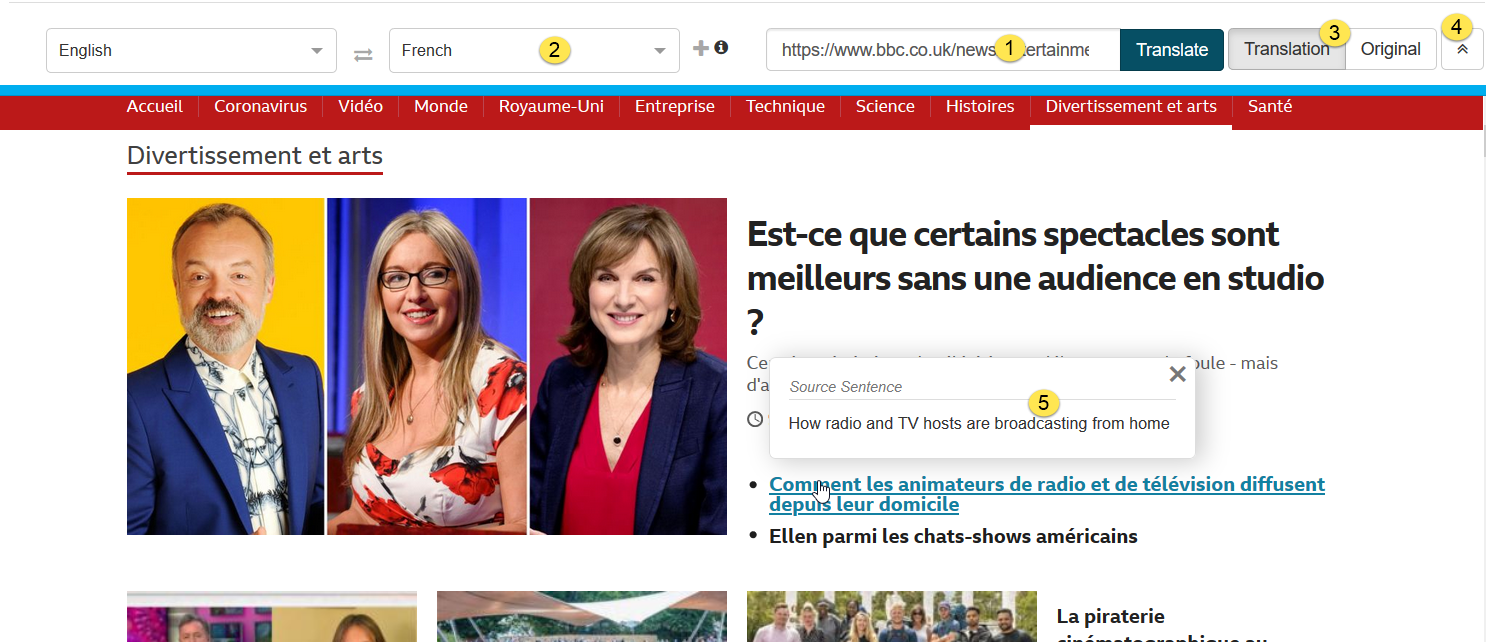 Here you can:
Easily translate another web page by pasting the URL in the provided field

Change the language pair

Switch back and forth between the Original page and the Translated page

Click the double arrow icon next to the Translate button to minimize or expand the header menu

Move the cursor over any text in order to visualize the source segment.
A click on any link on the translated web page will lead to the translated version of the new page.
Note
Due to security policies of SYSTRAN Translate:
Some websites still in HTTP may not be translated

Web translation is limited to 10 URLs per minute

When translating a web site, SYSTRAN Translate will open a new tab on your browser with the web site translated.